Buy your UFFIZI GALLERY TICKETS now and avoid LONG QUEUES!
Giorgio Vasari
Although famed for his painting and architecture, Giorgio Vasari is particularly well known for his volume of biographies of Italian artists – The Lives of the Most Excellent Painters, Sculptors, Sculptors, and Architects – published in 1550. The book traces the origins, evolution, and historical development of Renaissance art through the lives and works of the greatest masters of the time, providing a unique insight into their techniques, habits, relationships, and aesthetic achievements. The lives are an invaluable tool for today's scholars, who can draw on the writings of Vasari, who was contemporary or close in time to the artists described. The Lives decreed Vasari's era as a "rebirth" of art after the fall of Rome, with Giotto's works representing the beginnings of the aesthetic rise of art.
Vasari profiled the painters, calling Cimabue (1240-1302) and Giotto himself (1267-1337) proto-Renaissance, Florentine Renaissance pioneers Filippo Brunelleschi (1377-1446), Donatello (1386-1466), and Masaccio (1401-28 ca. ) and Renaissance giants (c. 1490-1530) such as Leonardo Da Vinci (1452-1519), Raphael (1483-1520), Michelangelo (1475-1564) and Correggio (1490-1534).
An extraordinary character Vasari, for the fruitfulness of his work, for his capacity for relationships and cultural organization, for a whole life spent, with passion and lucidity, in the idea of figurative creation, of art, as the summit and summa of human thought. The image of the world for Vasari is the supreme virtue of Florence, Rome, and Venice, heirs of the ancient classical golden age.
Vasari was, for at least two centuries, an absolute and not hidden model for all of the art literature, from France to Germany, from the Netherlands to Spain. The artist had an equal relationship with the protagonists of historical-literary science of the time, from Giovio to Annibale Caro, from Cosimo Bartoli to Aretino, which led to the foundation of what we now call iconology. By iconology, we mean the interpretation of the work of art in order to grasp its "cultural" meaning to grasp its allegorical or symbolic figures. With Vasari, this interpretation leads to the creation of the ut pictura poesis, the Latin phrase of the poet Quinto Orazio Flacco, which means "As in painting so in poetry." It, therefore, means that "poetry is like a painting" or, as in this case, "a painting is like a poem." The "pictura" in Vasari is "instrumentum regni," an instrument of government, both profane and religious, the result of the web of relationships woven with the Medici from Ottaviano to Cosimo I, with Alessandro Farnese, with the popes from Julius III to Pius V, with religious orders…
Vasari, therefore, is an artist like few others at the service of power, of its symbolization, but equally aware that visuality and the artist who masters it, have achieved, with the divine Michelangelo, Leonardo, Raphael, nobility, dignity equal to superior, to that, and to those, who are the subjects of representation and symbolization.
His masterpiece in writing, the Lives of the artists, where the relationship between art and artists is described with courts, cultural circles, and scholars, gives historical truth to this "sublime idea" of the function of images and art.
Giorgio Vasari – young age
Vasari was born in Arezzo on July 30, 1511, the eldest of six children of a bourgeois family. Giorgio's artistic orientation has been passed down to him through generations of family members. His great-grandfather Lazzaro Vasari had been a versatile artist: potter, maker of decorated saddles, painter of miniatures, and later, under the influence of his mentor Piero della Francesca, a fresco painter. Vasari's grandfather, after whom Giorgio took his name, was not a real handyman, but he was himself an expert potter. Vasari had also been particularly close to his great-uncle, Luca Signorelli, also a disciple of the teachings of Piero della Francesca and his technique of perspective drawing.
Little Giorgio had been a sick child, affected by frequent epistaxis or nosebleeds and perhaps by a severe form of eczema. Vasari told the story of how Signorelli allegedly tried to hold back his nosebleeds by applying a folk remedy which consisted of holding "a piece of red jasper around the neck with infinite tenderness." Jasper is a semi-precious stone of the quartz group.
He later became a pupil of William of Marseilles (Guillaume de Marcillat 1475-1537) French craftsman/artist, and an expert painter of stained glass windows. And yet, despite his having grown up among such a long line of artisans and artists, and despite his refined and precocious training, Vasari would have had to move to Florence to develop real competence in the field of art and architecture.
In 1527 he was sent to Florence by Cardinal Silvio Passerini, bishop of Cortona, papal legate, and guardian of the Medici heirs Ippolito and Alessandro. Passerini had visited Arezzo in 1523 and was moved by the boy's recitation of the Aeneid and admired the talent he showed in his drawings of him, so much so that he sent an invitation to an apprenticeship to the young man. Arriving in Florence, Vasari studied literature alongside the Medici heirs and trained in the workshop of Michelangelo Buonarroti.
Although Vasari's apprenticeship with Michelangelo lasted only a few months, his esteemed tutor was sufficiently convinced by the young apprentice's talent that in 1525 he secured him a place in the workshop of the painter Andrea del Sarto. Vasari preferred the training he received under Michelangelo's direction and grew frustrated at the interference of del Sarto's wife, Lucrezia, with the studio working environment. Soon Vasari left the Sarto workshop for a short time in the workshop of the sculptor Baccio Bandinelli, an artist whom he began to despise (and whom he defamed in the second edition of The Lives of the Most Eminent Painters, Sculptors and Architects).
In 1527 Vasari's father died of the plague. The sixteen-year-old Vasari assumed responsibility for managing the family's financial affairs and, out of necessity, learned to be meticulous in his bookkeeping. Although he faced an unwanted liability at the time, his experience helped him appreciate financial security. He deliberately surrounded himself with renowned authors, architects, and artists and developed a keen patron's eye for nurturing promising artists.
In 1531 the Florentine friend and former fellow student of Vasari, Cardinal Ippolito de' Medici, asked the artist to join him, his friend Francesco Salviati and the Medici entourage in Rome. Vasari lived his golden age in Rome (although a few years earlier, in 1527, the Sack of Rome had taken place by the lansquenets of Charles V). Together with his colleagues, she spent her days drawing and studying Roman ruins, monuments, buildings, statues, and the frescoes by Raphael and Michelangelo in the Vatican. A year later, the 21-year-old Vasari joined the Florentine painters' guild and became instrumental in raising the guild's prestige.
Mature period
According to some biographers (such as Leon Satkowski), Vasari was, on the one hand, "loyal, hardworking and totally committed to the political aspirations of his supporters." On the other hand, he was known to have an "obsequious personality" with power that "didn't make him universally popular."
Vasari's working relationship with the Medici family was long-standing and profitable, both for his family – for example, the Medici family made a dowry of his sister available – and for him personally. In 1536 Alessandro de' Medici paid Vasari four hundred ducats for his work by him, who at just 25 had already achieved the financial success most artists/craftsmen with will ever know.
There is a popular argument that Vasari may have been a better architect than the painter. However, according to some critics, Vasari "lacked a conventional training in architecture and arrived at it relatively late in his illustrious career." His interest in architecture first came through personal experience with architectural masterpieces and architects; his training as a painter and his classical training would also have exposed him to the imagery of architectural works and the works of Vitruvius, whose work was translated into the Italian vernacular in 1521. According to Vasari himself, he was only twenty (1536 circa) when he made a formal study of architecture. Vasari's buildings are characterized by their diversity of typology, meanings, and style. He placed particular emphasis on the symbolism and conceptual ideas of his buildings.
Vasari paintings
Vasari was employed by the Medici family, mainly in Florence and Rome, and also undertook projects in Arezzo, Naples, and other Italian cities such as Pistoia. As a painter, he was a splendid interior decorator; his paintings in the sixteenth-century Mannerist style were more admired in his lifetime than afterwards. He painted portraits and religious works, but his most important work is probably the decoration of the great hall of the Palazzo della Cancelleria in Rome, with scenes from the life of Pope Paul III, commissioned by the Pope's nephew, Cardinal Alessandro Farnese. Other notable works by Vasari are the ceiling and wall paintings in the great Sala di Cosimo I of the Palazzo Vecchio in Florence and the frescoes by him in the vast dome of the Florentine cathedral.
Vasari's Life of the Artists (1550) and the last period of his career
In 1550 Vasari published his seminal text, The Lives of the Most Eminent Sculptors, Painters and Architects, in collaboration with his friend Vincenzo Borghini and local experts. Despite its glaring gaps, the text crystallized the ideology of the Renaissance as the aesthetic progression from the dark Middle Ages to an enlightened return to classical ideals. It became a cornerstone of the historiography of art and of the periodization of the Renaissance style. Vasari had conceptualized The Lives of the Most Eminent Sculptors, Painters, and Architects around 1545, using both Plutarch's Parallel Lives (AD 100), which contrasted Greeks with Roman men of prominence, and Vitruvius' Ten Books of Architecture (30-15 BC) as key inspirations. The Lives was thus conceived as an ideological foundation for a Florentine art school. A second edition published in 1568 granted Venetian artists (including Titian) their rightful place in the development of the Renaissance. Vasari had hoped that his original tome would grant passage to the court of his friend and patron, the Grand Duke of Tuscany, Cosimo I de' Medici (1519-1574), although that honour would be denied him until 1554.
Dedicated to Cosimo I, the book was the first to introduce the terms "rebirth" and "renaissance" in print and was the first encyclopedic style of the biography. It also included descriptions of important techniques used by master artists and promoted the new Mannerist painting style, known as the "manner." Significantly, in matters of aesthetics and artistic judgment, a high percentage of Vasari's opinions have stood the test of time. That said, Vasari was occasionally prone to spiteful inaccuracies, such as his misleading comments on Andrea del Sarto (1486-1530), whose reputation was badly damaged.
The life of artists includes almost all the major artists of the Renaissance. In addition to those listed above, there are the sculptors Lorenzo Ghiberti (1378-1455) and Andrea del Verrocchio (1435-1488); the painter's Paolo Uccello (1397-1475), Beato Angelico (c. 1400-55), Piero della Francesca (1420-92), Andrea Mantegna (1430-1506), Sandro Botticelli (1445-1510), Giorgione (c. 1476-1510) ), Titian (c. 1487-1576), Correggio (1490-1534) and the architect and author of De Sculptura, Della pittura, and De Aedificatoria, Leon Battista Alberti (1404-72), just to name a few.
Many scholars have criticized "The Lives of Artists" for its bias and overabundance of factual inaccuracies and embellishments. But the principle that the history of art (and literature) could be understood through the exceptional actions of divinely gifted individuals remained steadfast. It is true that many radicals and revisionists have produced treatises challenging this romantic, "bourgeois" approach to art history, but his idea of the "biographical legend" created for the first time the pleasures of art appreciation in an "encyclopaedic" in all art lovers.
At the time of The Lives' first publication, public accusations and rumours of bad personal habits, such as drinking or wasting money, circulated. These accusations, regardless of their authenticity, but Vasari's career at risk because they questioned, for the first time, his credibility and his moral suitability. With major commissions now under threat, Vasari needed to shore up his public position, and though unprepared and warned by his peers, he married Nicolosa Bacci, daughter of a leading Arezzo apothecary, in 1550. Vasari had previously had an affair with Nicolosa's sister, Maddalena, and had two children born of this premarital union. In fact, his marriage to Nicolosa came immediately after Maddalena's death. Vasari was sincerely attached to his wife even though their union was childless.
OFFICIAL UFFIZI GALLERY TICKETS 2023 – BUY YOUR TICKETS ONLINE
Enjoy priority entry to Italy's greatest art treasures with a reserved entrance ticket to the Uffizi Gallery in Florence. See masterpieces by Michelangelo, Da Vinci, and Giotto, and spend as much time as you like gazing at Botticelli's "Birth of Venus."

Famous architectural design by Vasari
Vasari was more successful as an architect than as a painter. His architectural career truly began after his admission to the court of Duke Cosimo (in 1554) and materialized with building designs and town plans for both Cosimo and the Pope. Vasari also remodelled church interiors, including the church Gothic church of Santa Maria Novella in Florence, which, under the guidance of the Council of Trent, he rebuilt with the aim of improving the ability of the congregation to see and hear services. Vasari also took on the task of designing, rebuilding, and organizing the Palazzo della Signoria in Florence, which included Cosimo's private quarters, his meeting rooms, and the offices intended for his administrators, the Uffizi. Vasari was then instrumental in Duke Cosimo's approval of the establishment of the Accademia e Compagnia dell'Arte del Disegno. The Academy, which took its model of the ideal artist and its educational program from The Lives, aspired to educate artists in artistic skills, literature, and science. From Pope Pius V, Vasari received the honour of becoming a Knight of Saint Peter in 1571.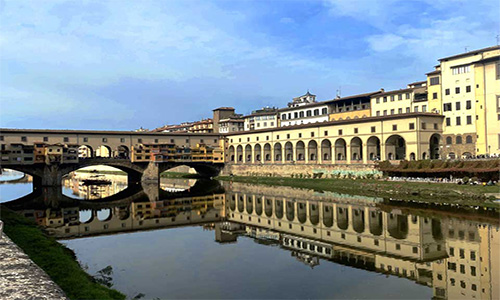 In Florence, his most important building project was for the Uffizi Gallery. His loggia of the Palazzo degli Uffizi, with its unified architectural treatment, represents a unique example of urban planning which functions as a public square and – like the Vasari Corridor which connects the Uffizi with Palazzo Pitti across the Ponte Vecchio over the Arno – seems to embrace the river environment. Vasari also redesigned and remodelled the churches of Santa Maria Novella and Santa Croce, where he removed the original rood screen and ceiling and remodelled the choir area in the mannerist taste of his time. In Rome, he collaborated with Bartolomeo Ammanati and Giacomo Barozzi da Vignola at the Villa Giulia of Pope Julius III.
Artist and businessman
Vasari was above all a frugal businessman. He realized the role of "artistic influence" that he could play in raising the value attributed to a work of art. His position helped initiate a shift in thinking that saw painters—or, rather, some special painters—occupy a higher status than mere craftsmen. If you could present yourself as an artist, then the better your chances of achieving fame and financial security. His position was summed up in this remarkable speech to his former colleagues and teachers: "I was once as poor as you all, but now I have three thousand scudi or more. You considered me awkward (as a painter), but the friars and priests consider me a skilful master. I once served you, and now I have a servant of mine, who looks after my horse. I used to wear those rags worn by poor painters, and now I'm dressed in velvet. I used to walk, now I ride the horse".
Reputation
Vasari was considered an artist, architect, designer, and critic during his lifetime and managed to amass a considerable fortune. He designed, built, and decorated his large house in Arezzo (now a museum dedicated to him). In 1563, together with Grand Duke Cosimo I de' Medici and Michelangelo, he helped found the Accademia e Compagnia delle Arti del Disegno in Florence, with 36 member artists.
Giorgio Vasari died in Florence on June 27, 1574, at the age of sixty-three. He was buried in a chapel he designed himself in the Church of Santa Maria in Arezzo.
Giorgio's Legacy by Antonio Vasari
Vasari's greatest legacy is his 1550 text, The Lives of the Most Eminent Sculptors, Painters, and Architects, a seminal document that helped shape art history as an academic discipline. Since then, artists and scholars have drawn on the "Lives" as an important, if problematic, and often apocryphal guide to the Italian Renaissance. Annotated copies of the Lives have been found in the libraries of artists such as El Greco, Annibale Caracci, and Federico Zuccari, and her alphabetical records of artist biographies have ensured that there is a record of female Renaissance artists who might otherwise have been overlooked: among these Sofonisba Anguissola and her sisters, and Properzia de' Rossi of Bologna.
The Lives used each artist's biography as an entry point to understanding their work, a technique unique in Vasari's time but now a common art historical methodology. Vasari structured the profiles of each artist within an identifiable progression, starting with the artist's place of birth and family history, then rigorous and dedicated training, and then details and anecdotes about professional success and aesthetic significance. Vasari painted the portrait of an ideal artist, economically savvy and successful, who also behaved morally. He tried to demonstrate "that talent is not enough to build a career: persistence matters too." Through Vasari, artists transcended their status as mere craftsmen to become "both thinkers and builders." The Lives, however, were oriented towards Tuscan and especially Florentine artists and artists whose works fitted Vasari's ideal. The second volume (1568), which recognizes the role of Venetian artists in the development of the Renaissance, somewhat corrects its geographical imbalance.
As an avid collector of drawings, Vasari also contributed to the popularization of drawings as valid aesthetic documents rather than preparatory material to be discarded. We owe him the Books of Drawings, in which he organized and exhibited the drawings of artists he admired. Thus it is said that Vasari saved Michelangelo's drawings from an attempt to burn them in an open fire, an attempt by Michelangelo to hide from posterity the hard work and preparation that could damage the idea that it was his creative spontaneity that produced his greatest masterpieces.
Join our Uffizi Gallery Tour for skip-the-line access with an expert guide to make the most of your visit!
Links you might find useful